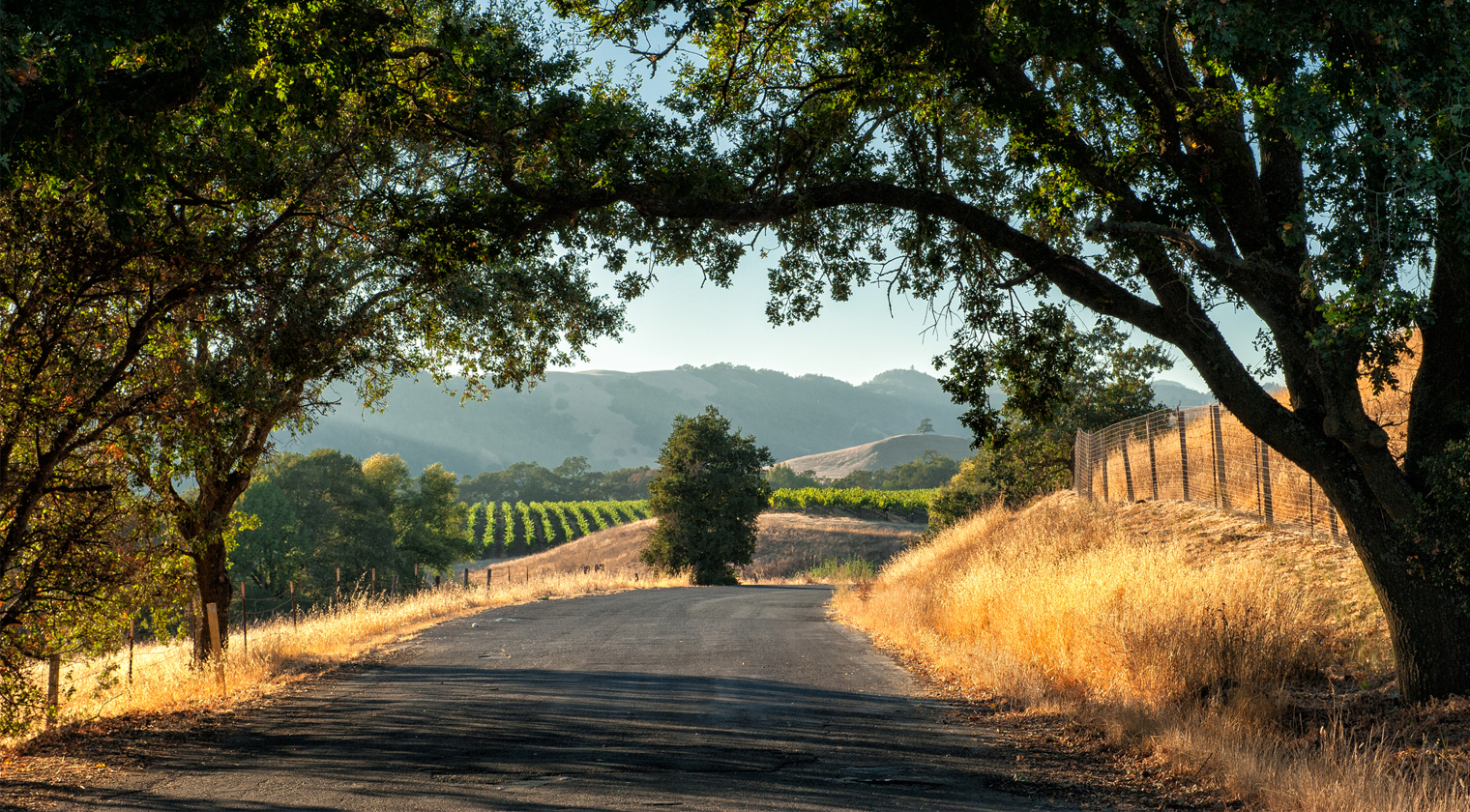 The Ultimate Northern
California Experience
Discover Woodside
Northern California Drive Package
Your Next Adventure Awaits
---
Northern California is a land made for adventurers and dreamers, a place where wanderlust leads you down breathtaking highways and solitary back roads, to beaches, wineries, hot springs, verdant hillsides, and city lights. Discover the riches of this amazing place when you embark on The Ultimate Northern California Experience.
Your biggest challenge may be deciding where to begin. Will your adventure begin with a visit to historic Monterey or a vineyard retreat in pastoral Carmel Valley? Perhaps you'd like to experience the cosmopolitan charms of San Francisco followed by a drive up the rugged Sonoma Coast to Bodega Bay or south, past rich farmlands to the world-famous beach and boardwalk at Santa Cruz. You could visit Stanford University and catch the Silicon Valley buzz, then head for the East Bay hills of Lafayette for a day of spa treatments. And of course, your trip could include a visit to the Napa Valley hamlets of Yountville and St. Helena, where lazy days of wine tastings and culinary explorations are de rigueur. Follow up with a stay in Calistoga to take the healing thermal waters and wind up your trip completely refreshed and rejuvenated.
At each of these iconic destinations, you'll experience the distinctive local culture, gracious hospitality, and luxurious comforts that distinguish our hotels. Start planning your Ultimate Northern California Experience now. We look forward to indulging your wanderlust!
Choose three or more destinations for stays on consecutive nights and receive:
· Tesla Model S or Model X* available for pickup / drop-off at all major Bay Area airports or delivered to you upon arrival at your first destination
· Each hotel will provide a unique VIP welcome amenity (minimum $50 value) based on your preferences
Rates starting from $489 per night
Book Now Tesla Model S Book Now Tesla Model X
*Model X transportation will carry a $100 premium from the base package price. Once room reservations are confirmed a member of our team will reach out to assist with your Tesla pickup and drop off locations. For assistance please contact us directly at reservations@woodsidehotelgroup.com.

Our Hotels
Bernardus Lodge & Spa
The Bernardus Lodge & Spa is situated on 28 acres of vineyards, orchards, and organic gardens—all the elements that make Carmel Valley a wine and food lovers paradise. Nestled in the Santa Lucia mountains, the valley's climate is especially ideal for Cabernet Sauvignon, Merlot, and other reds, as well as exceptional Sauvignon Blancs and Zinfandels. The drive from the coast is lined with picturesque vineyards and opportunities to sample the famous wines of this region, and Carmel Village, just down the road from Bernardus, boasts over twenty tasting rooms and heaps of small town country charm.
Read More
Take the short drive to Carmel-by-the-Sea, a charming, Mediterranean-style village nestled above a popular stretch of white-sand beach. Explore galleries, boutiques, and outdoor cafes, and be sure to ask the concierge for a passport to Carmel Wine Walk by-the-Sea, an ongoing tasting opportunity you don't want to miss.
Must-do
Head south on Highway 1 to Big Sur and experience one of the most breathtaking drives in the world. This fabled highway winds through the emerald green foothills of the Santa Lucia Mountains, past white limestone cliffs and peaceful sandy coves at the edge of the Pacific. Stop in for lunch at the famed cliffside Nepenthe Restaurant, browse the shops and galleries in the quaint villages along the way, and return to Bernardus as the sun sets on the ocean's indigo and gold horizon.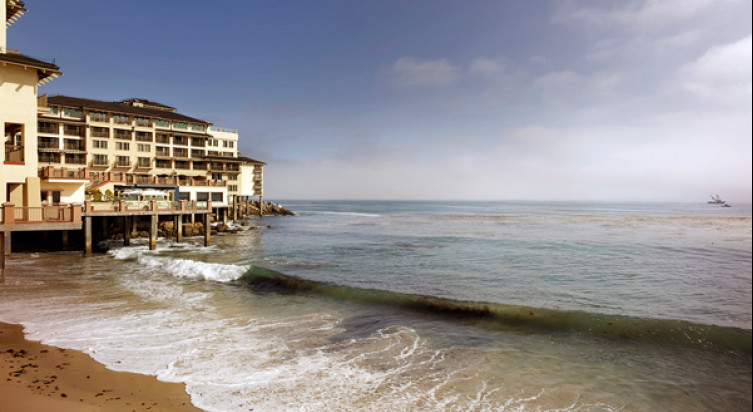 Monterey Plaza Hotel & Spa
The Monterey Plaza Hotel & Spa sits on the site of the former Casa de Las Olas, a magnificent estate completed in 1901 for a magnate's young bride. By the early 1920s, sardine canneries were taking over the once-undeveloped coast, and in another 20 years, the beautiful villa was demolished. You can still see remnants of historic Cannery Row, but the once-gritty dockside streets have been transformed into a vibrant neighborhood alive with boutiques, galleries, and over 25 restaurants and wine tasting rooms.
Read More
The Monterey Bay Aquarium is a short walk from the hotel. It is a stunning showcase for the habitats and sea life of one of the world's richest marine regions and you will learn all about the fascinating creatures playing in the waves right below your hotel balcony.
For spectacular ocean views and countless photo ops, take the 17-Mile Drive. You'll spy seal and cormorants along the rocky coast and herds of deer in the Del Monte Forest. Pass by famed Pebble Beach and seven other world-class golf courses and tip your cap at the iconic Lone Cypress standing strong for 250 years on its granite cliff overlooking the Pacific.
Must-do
Get out on the water, up close and personal with the sea otters at play. Rent a kayak or stand-up paddleboard at the adventure shop across the street and launch from the sandy beach next door to the hotel. For the landlubber, a bike ride or walk down the coast on the dedicated recreation trail takes you on a wondrous journey past fields of purple ice plant and sea lions lazing on the rocks at the water's edge.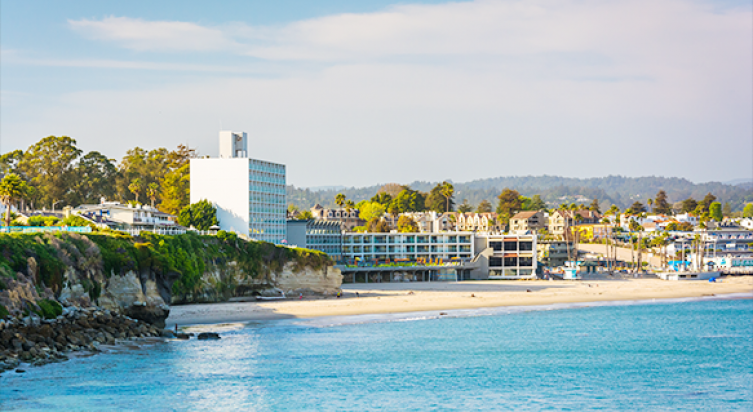 Dream Inn Santa Cruz
The Santa Cruz Beach Boardwalk, one of the most beloved amusement parks in the country, features classic rides, including a carousel and roller coaster that are National Historic Landmarks. There's a two-story mini golf course, old-school arcade games, and much more. Walk over to the Santa Cruz Municipal Wharf for traditional seaside attractions. Try your hand at pier fishing and take a whale watching tour, or just sit on the benches and watch the parade go by.
Read More
The Dream Inn is an iconic presence on West Cliff Drive, a scenic three-mile walking and biking path that follows the coastline. Watch the surfers ride the big waves at Steamer Lane, stop in at the Surfing Museum, and look out for whales and dolphins at Lighthouse Point.
Must-do
The Dream Inn was built on the site of Jack O'Neill's legendary surf shop, which puts it at ground zero of the California surf scene. Get into the Santa Cruz spirit, and learn how to catch a wave. Sign up for lessons at Club Ed Surf Rentals. Beginners learn on the calm waves of Cowell Beach, which is right outside your door.
Stanford Park Hotel
Hop on our complimentary bikes and tour the beautiful Stanford University campus, or take a stroll along Palo Alto's University Avenue, where the charms of a small town combine with the excitement of an urban center. Browse the independent bookstores, specialty shops, and art galleries. Then stop in at one of the many outdoor cafés or coffee shops to sample tasty local flavors.
Read More
The open-air Stanford Shopping Center, directly across the boulevard from the hotel, is a premier California retail destination. Beautiful gardens, sculptures, and fountains create a unique shopping environment that people come from all over the world to experience.
Must-Do
Hike the moderate paved trail up to the Stanford Dish, a radio telescope on a ridge overlooking the university. The area is part of an environmental restoration project showcasing native grasses and other plantings. It's an ideal early morning or late afternoon excursion that rewards hikers with incredible views of the Silicon Valley, the Bay Bridge, and San Francisco.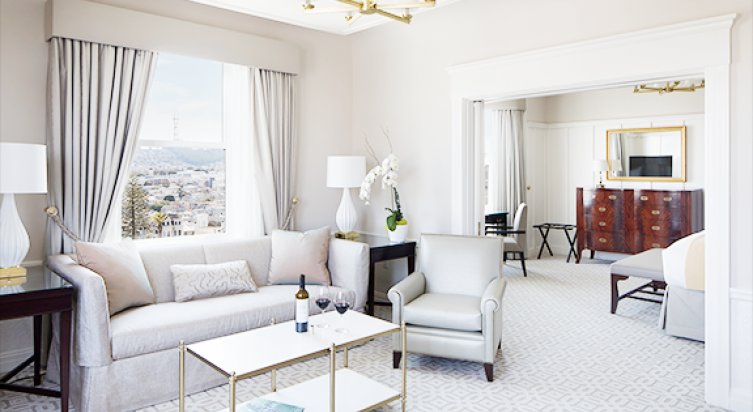 Hotel Drisco
The hotel perches atop the exclusive Pacific Heights neighborhood, where the views take your breath away. Upper Fillmore down the hill is where you'll find delightful eateries, bookstores, and specialty shops. Check out one of San Francisco's oldest movie theatres, The Clay, which features independent and foreign films. Head over to Sacramento Street for a different vibe, with art and antique stores as well as high-end boutiques and unique cafés and bars.
Read More
Visit the Presidio and discover its fascinating history and natural beauty. Walk along an historic airfield, through forests to beaches, and take in the spectacular vistas along miles of hiking and biking trails. A world-class board sailing and kite surfing area borders Crissy Field, while fishing and crabbing opportunities abound. The park also features a golf course, bowling alley, and tennis courts.
Must-Do
Borrow our bikes (helmets, backpacks, locks, and water bottles are all provided) and ride across the Golden Gate Bridge. Stop for lunch at a shoreline restaurant in historic Sausalito for panoramic views of the bay and the San Francisco skyline, then catch the ferry for a relaxing return.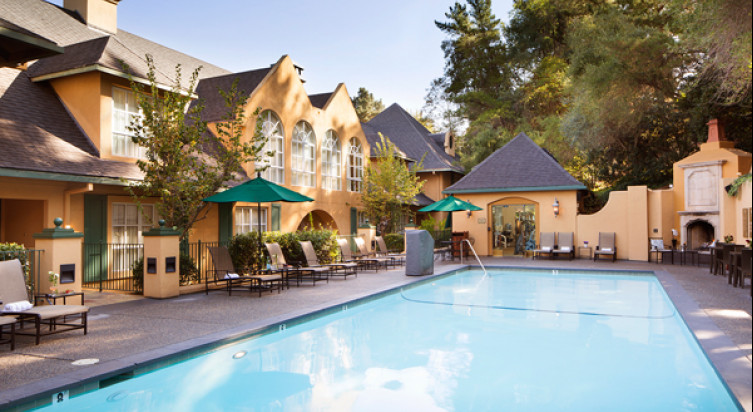 Lafayette Park Hotel & Spa
Lafayette has a quaint downtown with a great variety of enticing shops and restaurants. The surrounding hills have been preserved for open space with easily accessible hiking trails that wind through live oaks and grasslands, and there are two popular walking trails at Lafayette Reservoir. When you aren't soaking in the secluded pool or indulging in a spa treatment, head out to Broadway Plaza Walnut Creek for the ultimate shopping experience. You'll find world-class department stores and dozens of boutiques in a picturesque setting that rivals the finest retail destinations in California.
Read More
Must-do
Take in a concert at The Greek Theatre on the nearby UC Berkeley campus. Built in 1903, the amphitheater's design is based on ancient Greek structures. It is listed on the National Register of Historic Places and provides a magnificent setting for music festivals, concerts, noted speakers, and other events.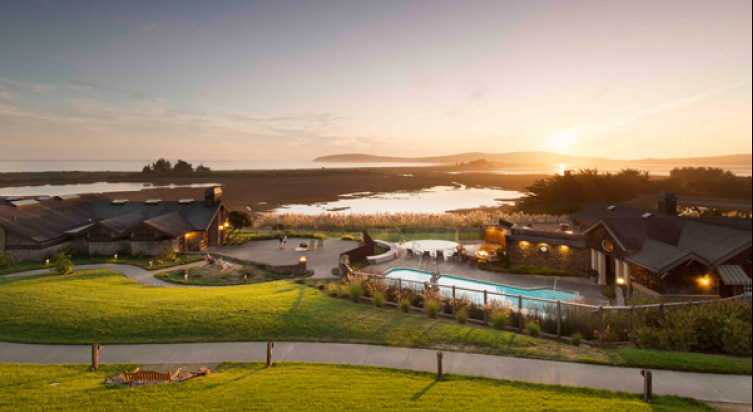 Bodega Bay Lodge
Outdoor adventure begins at the lodge, where you'll have the rare opportunity to see four distinct bodies of water from one vantage point. Enjoy the simple pleasure of taking in the incredible view of the Pacific Ocean, Bodega Bay, Bodega Harbor, and saltwater marshlands. The Bird Walk takes you on an easy hike through ponds and marshes that make for amazing bird watching, and a ten-minute stroll leads to the ocean and Doran Park Beach, one of the greatest kite flying areas in the world. At nearby Bodega Head, a three-mile hike offers dazzling ocean views, bird watching, and a prime vantage point for whale spotting.
Read More
Bodega Bay is an old fishing village, and there are plenty of experts available if you want to try your hand at deep sea fishing. Drive to Point Reyes National Seashore, which is teeming with wildlife, including 37 species of marine mammals. Take the three-mile hike to the tip of the Point, where you will see endless dramatic vistas and a magnificent herd of elk grazing the sumptuous grasslands.
Must-do
Drive up Highway 1 through Sonoma Coast State Park, which extends 17 miles from Bodega Head to Vista Trail. A dozen access points along the stunning drive lead to scenic overlooks and sandy beaches, including two of our favorites, Salmon Creek and Goat Rock.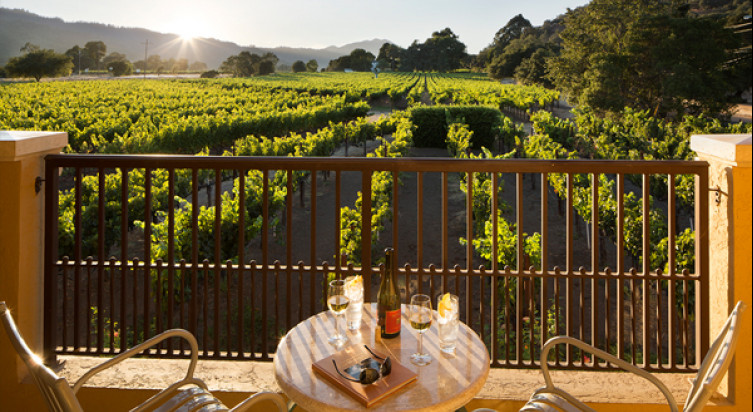 Napa Valley Lodge
With more Michelin-starred restaurants per capita than any other place in the world, Yountville is a culinary mecca. From casual farm-to-table eateries to once-in-a-lifetime nine-course tasting menus, dining in Yountville simply can't be matched. Meet the farmer, the winemaker, the master sommelier, and fellow wine and food lovers at the convivial gathering spots of this village. All are within easy walking distance of the lodge, and if you need a ride, just hop on the trolley. In addition to the incredible dining, Yountville also has nineteen tasting rooms offering the very best from the most esteemed wineries of the Napa Valley region.
Read More
A drive down highway 121, known as The Silverado Trail, is a spectacular way to experience Napa Valley viticulture. The road is lined with bucolic views of vineyard-covered hillsides and so many world-renowned wineries you couldn't possibly visit them all. But it's fun to try.
Must-Do
Soar high above Napa Valley in a hot air balloon. Early morning departures make for the best flight conditions and the rising sun bathes the vast array of vineyards and imposing mountains in its golden light. The champagne post-flight breakfast is optional but recommended.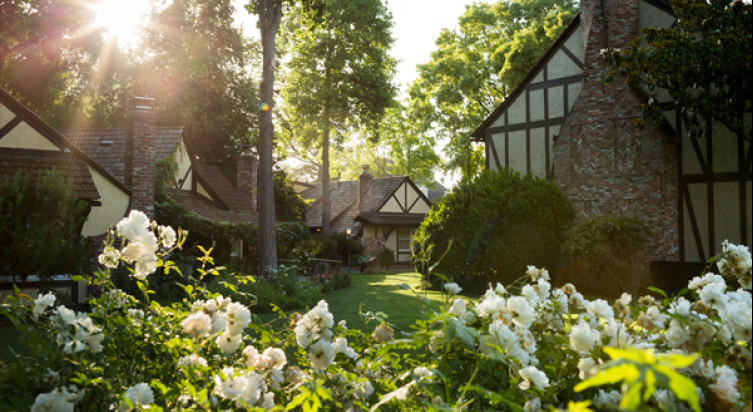 Harvest Inn
St. Helena is tucked away among the picturesque vineyards of the Napa Valley, and its historic, small-town charm has been carefully preserved. A stroll downtown takes you past boutique wineries, highly-acclaimed restaurants, and refined shopping—all imbued with the authenticity of the original Napa Valley. Visit the wineries of Rutherford, where the unique soil produces wines tinged with a mysterious, almost spicy element known as Rutherford dust. Among the famed Cabernets of Napa Valley, those hailing from the Rutherford area have an especially passionate following.
Read More
Must-do
Napa Valley, one of the world's most distinctive and treasured wine regions, offers countless winery tours and, with 500 wineries to choose from, it's a good idea to get some expert guidance. Hop aboard the Wine Train or hire a car. Take a bus or drive yourself. You can even tour the valley on a bike or horseback. We are happy to help you plan your adventure and will gladly make arrangements for your tasting room and winery visits.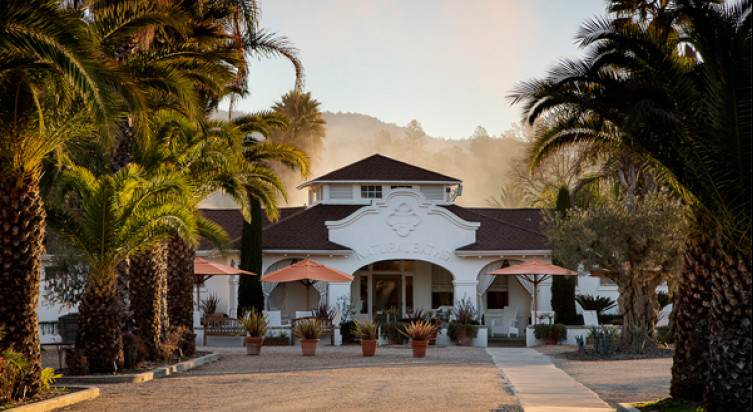 Indian Springs Calistoga Resort & Spa
When you aren't melting your aches and cares away in the mineral hot springs, seek out the other charms of historic Calistoga. Wineries, restaurants, boutique clothing and gift shops, and art galleries are all within easy walking distance. Indian Springs has drawn guests since the 19th century, seeking the restorative powers of its thermal water drawn from geysers deep in the earth. The Olympic-size Main Pool and the Adult Pool are kept at 82–102 degrees Fahrenheit, depending on the season.
Read More
Immersing yourself — taking the waters— adds a healing element to the swimming experience. Pools are open until midnight, allowing you to soak and float under the Napa Valley stars. The spa at Indian Springs offers unique healing and rejuvenating experiences. All the natural elements used in facials, body treatments, and massages are sourced entirely on the property, and the hushed tones, soothing water features, and lush tropical landscape create a deeply relaxing atmosphere.
Must-do
The Indian Springs mud bath is a time-honored tradition that reaches back to the days when Native Americans were the area's only inhabitants. The vein of volcanic ash found on the property is the source of the 100 percent pure ash used for the mud baths, a rarity among spas. The ash is mined on site, hand sifted, and mixed in mineral water from the thermal geysers, creating the relaxing and rejuvenating mud.